Competition – win a piece of movie history!
THIS COMPETITION IS NOW CLOSED, AND WE'LL BE ANNOUNCING THE WINNER SOON
It's competition time again, and we are VERY happy to be bringing you a unique piece of movie history.
While we still wait patiently for the (for now) postponed Indiana Jones Steelbooks, you could be the lucky winner of this piece storyboard artwork from The Last Crusade, courtesy of Prop Store, the world's leading vendor of original movie props and costumes.
With an inventory of thousands of unique artifacts, Prop Store offer movie fans the chance to own the ultimate collectable – something that was actually used in the production of their favorite films.
About Prop Store:
In 1998, Prop Store founder Stephen Lane's love for movies led him to begin hunting for the same props and costumes that were used to create his favorite films. He found that he could not only provide collectors with access to their most coveted pieces, but also establish archival standards for this new, pop-culture hybrid of fine art and memorabilia collecting—prop art.

Once Stephen assembled his dream team of like-minded movie fanatics, Prop Store set out like a band of movie archaeologists, looking to locate, research and preserve the treasure troves of important artifacts that hid in dark, sometimes forgotten corners all over the world.

Now, more than twelve years later, the prop hobby and Prop Store are thriving. With over fifteen employees between their offices in London and Los Angeles and over 15,000 combined square feet of archived props and costumes, they've become the busiest and most trusted authority in the hobby.

Thinking of starting your own collection? Give them a call or e-mail and they'll arrange a tour through one of their incredible galleries so that you can see the limitless possibilities that await.

The reality of owning an authentic prop or costume from your favorite movie could be just a call or click away…
This piece of art comes ready-framed and signed, and includes a certificate of authenticity.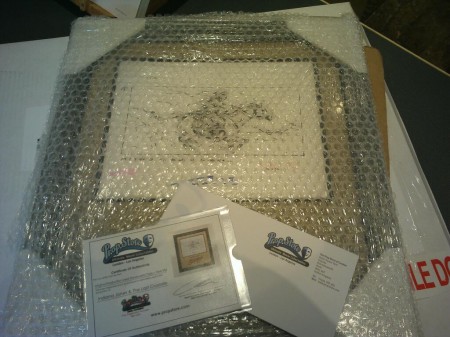 For your chance to win, simply answer the question below.
The closing date for entries is midnight UK time on Saturday June 22nd. Please note this competition is only open to readers in the UK & Eire.
George Lucas got the name 'Indiana' from where?