CULTURE TRUMPET – REVIEW – The BABADOOK Limited Edition BLU-RAY and 4K UHD
Second Sight Films kindly sent us a copy of the re-release of 2014's fantastic yet terrifying horror, The BABADOOK. We'll be taking a look at the 4K UHD disc specifically. Please let it be known that I've never seen this film in it's entirety before as I got too scared 10 minutes in last time…
If it's in a word. Or it's in a look. You can't get rid of … The Babadook
Firstly, let's look at the Limited Edition set as a whole. If you choose to purchase this item you will be getting a stunning slipcase with brand new foreboding artwork from Peter Diamond. It's eerie and dark, fitting for this film. Also included is a 150 page hardback book with new essays and also 6 collectors' art cards.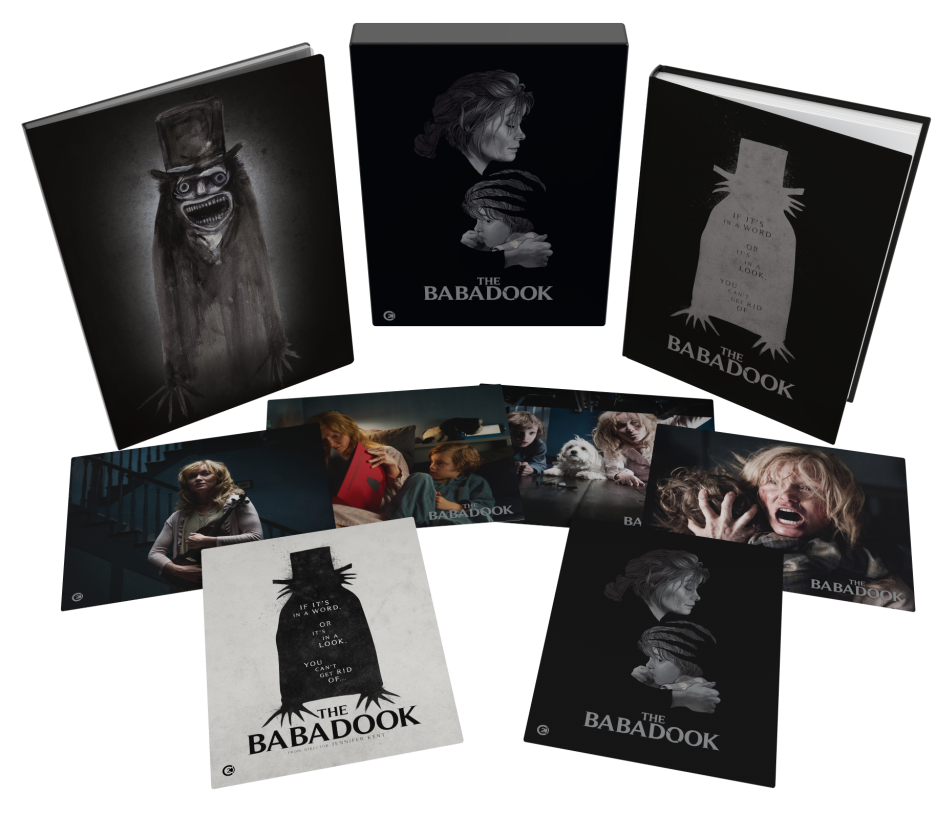 Onto the film itself, spoilers ahead… This isn't your traditional BOO horror film that seems to be ever so popular at the moment, looking at you Conjuring Universe. The Babdook is a dive into a single mothers grief. Brilliantly portrayed by Essie Davis. On the way to the hospital to give birth to their only child, Samuel (Noah Wiseman), Amelia tragically lost her husband in a fatal car accident. He's now 6 and still scared of monsters under the bed. Amelia (Davis) is stuck in the same routine at bedtime and poor young Samuel is having a really difficult time integrating at his school, because he's different. He doesn't have a Dad like the other kids at his school.
In the early scenes of the film we are shown that Samuel likes a bedtime story, however, when he's given the choice to pick any book for his mother to read before bed. He chooses 'Mister Babadook' which has mysteriously appeared on his bookshelf. As Amelia reads this very inappropriate pop up children's book she starts to realise that this is not your regular bedtime novella. Samuel ends up terrified of the Babadook tale and in the following days starts talking to an unseen entity that he tries to warn his mother to not let in.
Various attempts to rid the house of the 'Mister Babadook' book result in it making its way back into the struggling mothers life. Eventually the new book that arrives shows Amelia, possessed, killing the family pet and even her only child. This is when the Babadook really takes hold and the horror truly begins.
DON'T LET IT IN!
Sadly, Amelia does and the poor pup gets it. Thankfully the kid escapes with just a bruised neck but in an attempt to save his mother, Samuel stabs his own mother to make her realise she's not in control. A personal highlight of the film was when the bedroom was going full Exorcist as Amelia screams at the Babadook "You are nothing. You're nothing! This is my house! You are trespassing in my house! If you touch my son again, I'll fucking kill you!"
As the drawn demon leaves her and her son and retreats, the horror – it seems – is over….
---
Let's look at the 4K master. It was stunning. Deep blacks and bright highlights when the filmmakers wanted to show you the monster under the bed. The colouring seemed naturalistic and in the darker scenes and shadows the transfer still retained plenty of detail with good contrast and separation over the whole frame. The audio was what I would expect from a UHD Bluray. The film itself doesn't have a HUGE soundtrack but the mixing and levels were not all over the place which is obviously a good thing.
One great inclusion within the special features is the short film Monster, the inspiration behind The Babadook and it also happens to be directed by Jennifer Kent. It was great to see how many themes and even some dialogue made it from her original vision to what became the terrifying feature film. Arguably, Monster was scarier as it had to deliver a scary punch in just ten short minutes. The premise is similar but you can see why Jennifer wanted to expand on her idea further.
If you don't already own a copy of The Babadook you really should consider adding this Second Sight release into your collection.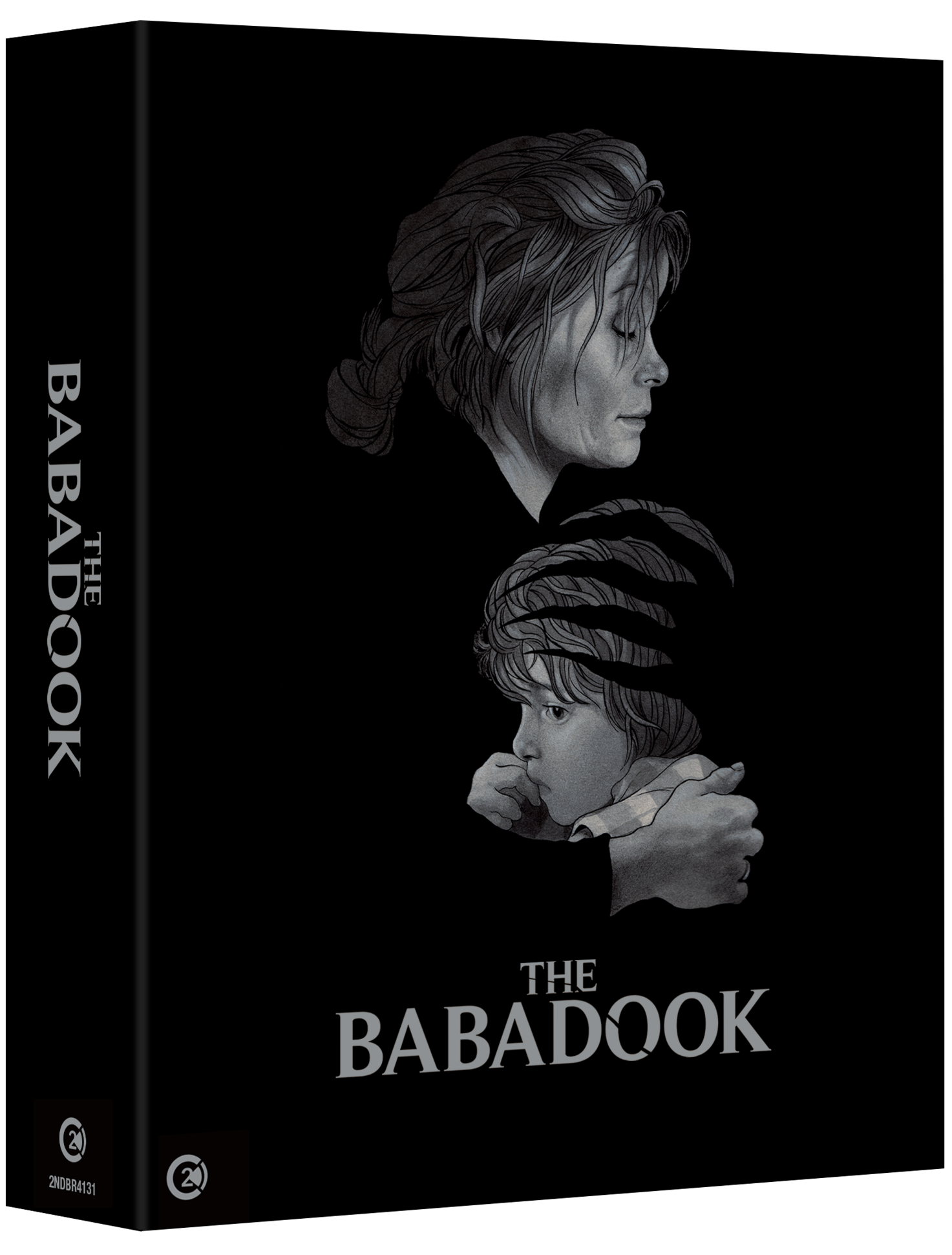 This new release contains all of the following goodies:
Special Features 
4K / Blu-ray dual format release
New 4K master produced by the original post production facility and presented in HDR10
A new audio commentary by Alexandra Heller-Nicholas and Josh Nelson
This is my House: a new interview with Actor Essie Davis
The Sister: a new interview with Actor Hayley McElhinney
Don't Let It In: a new interview with Producer Kristina Ceyton
Conjuring Nightmares: a new interview Producer Kristian Moliere
Shaping Darkness: a new interview with Editor Simon Njoo
If It's in a Name or in a Look: a new interview with Production Designer Alex Holmes
The Bookmaker: a new interview with the book designer Alexander Juhasz
Ba-Ba-Ba…Dook!: a new interview with Composer Jed Kurzel
Monster: Jennifer Kent's original short film
They Call Him Mister Babadook: The Making Of
There's No Place Like Home: Creating The House
Special Effects: Stabbing Scene
The Stunts
Illustrating Evil: Creating the Book
English SDH subtitles for the hearing impaired
Limited Edition Contents
Rigid slipcase with new artwork by Peter Diamond
150 page hardback book with new essays by Anna Bogutskaya, Daniel Bird, Kat Ellinger, Rich Johnson, Jon Towlson and Laura Venning, archive Jennifer Kent interview, stills, behind-the-scenes photos and original illustration concepts for the book
6 collectors' art cards
The Babadook is due for release on the 26th of July 2021, and you can order it now from Second Sight Films, Amazon UK and Zavvi.
| | |
| --- | --- |
| Film: | (5.0 / 5) |
| Video: | (4.5 / 5) |
| Audio: | (4.0 / 5) |
| Extras: | (5.0 / 5) |
| Packaging: | (5.0 / 5) |