REVIEW – We take a look at the "Star Trek: Discovery" Season 4 Steelbook release
Show
Season Four of Star Trek: Discovery follows the newly promoted Captain Michael Burnham (Sonequa Martin-Green) as she and her crew help rebuild the United Federation of Planets after the events of Season Three, which saw them travel 1000 years into the future (the show's initial timeline placed them before the events of the original Star Trek show), only to find the Federation had almost been wiped out by an event known as "The Burn".
Things are looking up, but it's not long before a new danger emerges, in the form of a space anomaly traveling through the galaxy and destroying everything in its path.
Martin-Green is fantastic as always, and over the course of the show Burnham has evolved from an impetuous and impulsive character, unwilling to listen to her superiors, into someone who learns the hard way what it means to be a leader.
A Star Trek show is nothing without its ensemble cast though, and we get the welcome return of all the familiar faces, including Doug Jones as Saru, Anthony Rapp as Stamets, Mary Wiseman as Tilly, Wilson Cruz as Culber, David Ajala as Book, Tig Notaro as Reno, and Blu del Barrio as Adira, all of whom get plenty to do across the season.
Also back are Season 3 additions Oded Fehr as Vance, head of Starfleet, and film director David Cronenberg as the mysterious Kovich.
While the show has had some uneven patches over the course of its four seasons (though nothing anywhere near as bad is Picard Season 2…), it's nevertheless a great slice of Star Trek, with a more serious, mature tone (there are even some swears!), and each season brings something fresh and moves both the story and characters forwards.
If you haven't watched Discovery yet, I strongly urge you to do so, and get up to speed before Season Five arrives in 2023.
Video & Audio
Star Trek: Discovery arrives across 4 Blu-ray discs. While it would be nice to have 4K option with HDR, as a new, digitally shot production, the picture quality is top notch, and about as good as Blu-ray has to offer. The image is nice and sharp, with superb levels of detail, while strong contrast gives us great highlights as well as plenty of depth in the blacks. Even without HDR, the bold colour palate pops off the screen.
On the audio front, the streaming version's compressed 5.1 audio is replaced with a very nice, full-bodied DTS-HD Master
Audio 5.1 track. Atmos or DTS:X would have been nice, but there's little to complain about here. The sound mix makes great use of all the channels, with some nice atmospheric sounds, as well as more attention-grabbing directional effects, all backed up by a solid, but never over-done, LFE channel.
All in all, this is a very good AV presentation.
Extras
Often, a physical edition of a streaming movie or show feels like a bit of an afterthought, with minimal effort in terms of any extras.
Thankfully though, this release includes a decent amount of bonus features. There are a handful of deleted scenes that really don't add much across the first three discs, but things pick up on the final disc, with a nice selection of extras, starting with an informative and fun audio commentary on the season finale episode from executive producer Michelle Paradise, executive producer/director Olatunde Osunsamni, along with actors Sonequa Martin-Green & David Ajala.
Then we get over 90 minutes of featurettes covering various aspects of the production of the show, the cast, and the characters.
The most interesting for me is a look at Season Four's adoption of LED screen 'volume' technology as an alternative to blue and green screen. Made famous by its use on Star Wars shows such as The Mandalorian, this 20 minute featurette provides a great, up-close and honest look at how the tech works in reality, and the crew are pretty open about some of the challenges they faced getting the system up and running.
Packaging
As well as regular Amaray release, you can also pick up this Season Four release with a stylish looking steelbook release, which we're covering here.
While the designs on the previous 3 season steelbooks has been pretty uninspiring, with Season Four we finally get something a bit more stylish, with dynamic, colourful key art wrapping round the front and back, some nice metallic highlights, and a glossy finish.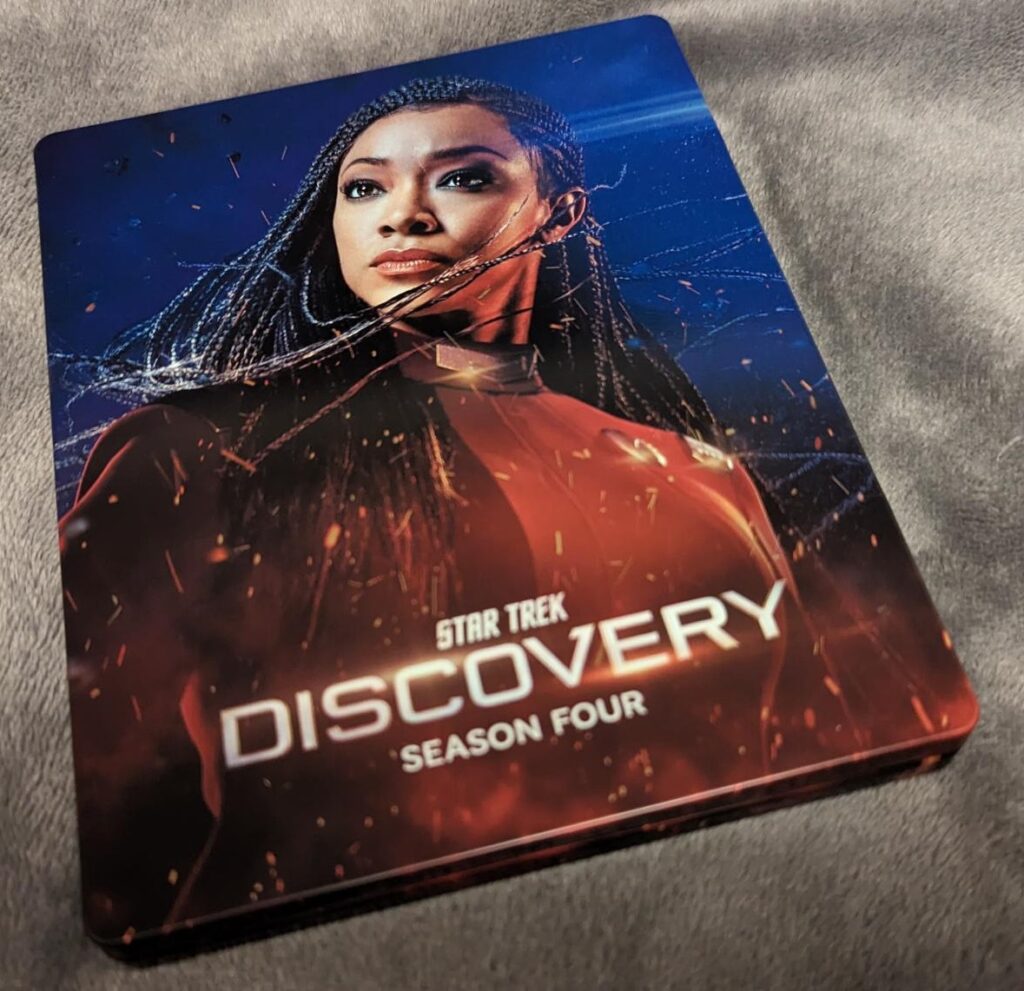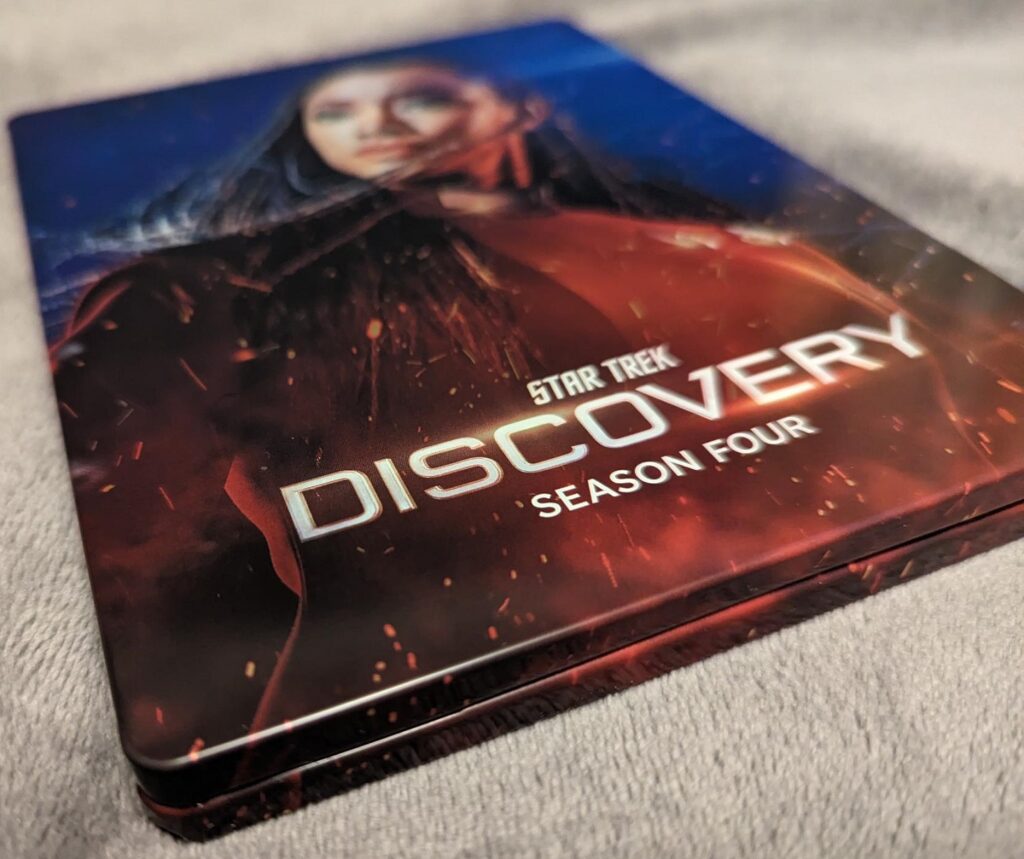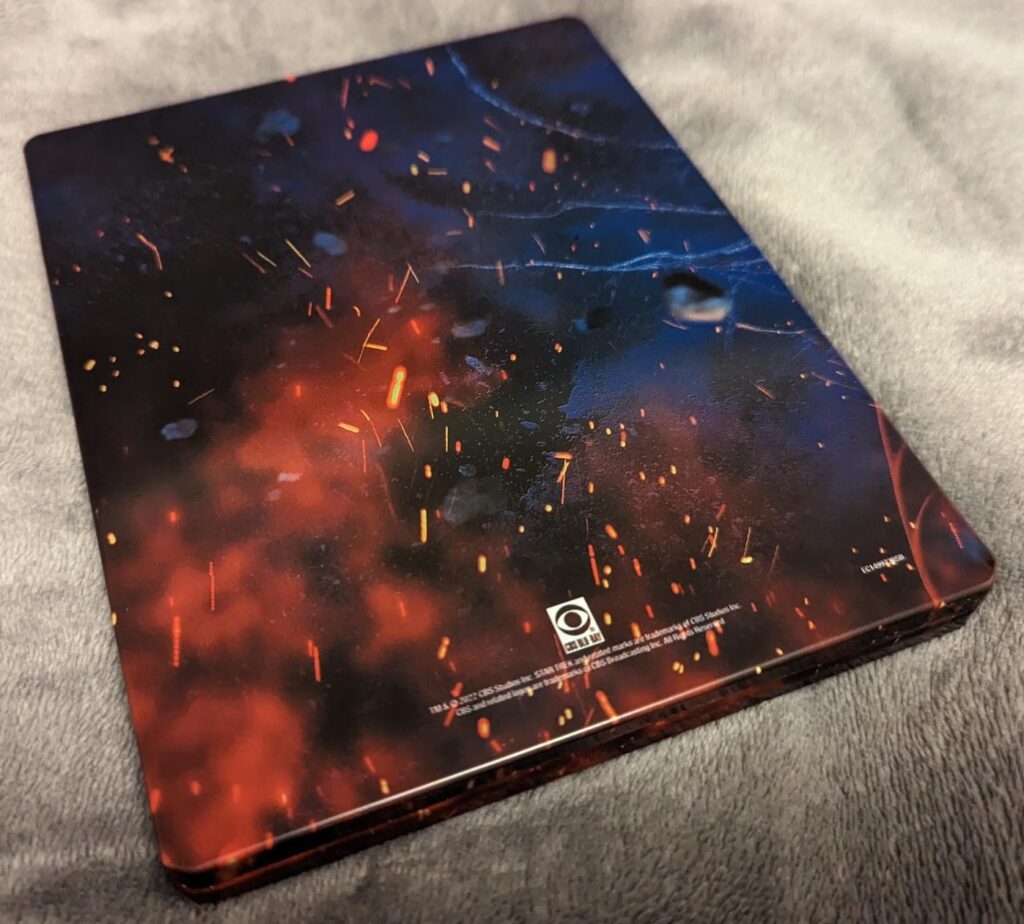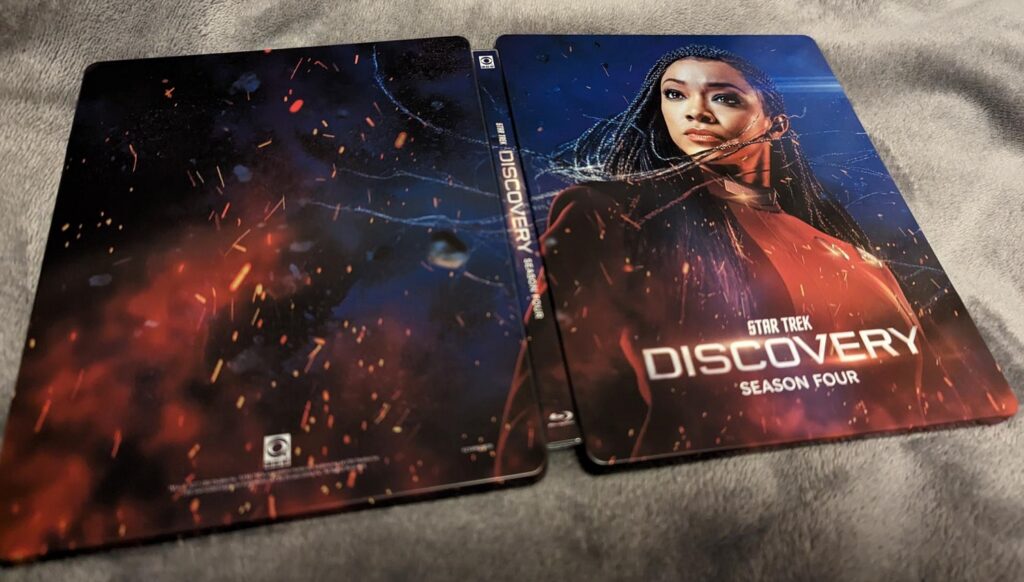 | | |
| --- | --- |
| Show: | (4.0 / 5) |
| Video: | (4.5 / 5) |
| Audio: | (4.5 / 5) |
| Extras: | (3.5 / 5) |
| Packaging: | (4.5 / 5) |