REVIEW – We take a look at the new Second Sight release of Nicolas Roeg's "Walkabout"
How excited are you about this release?

Talk about this release on Slack
Film
Abandoned in the Australian Outback a teenage sister and her younger brother set out an epic trek back home. With dwindling supplies and no survival skills, their lives are saved by an Aboriginal boy on a ritual 'walkabout'. While their lives are saved, and the boy is happy to help, the vast differences between their cultures soon become apparent, leading to a bittersweet ending, and questions over what really counts as 'civilisation'.
While the story is slight – the original screenplay was only a few pages long – the film never feels unnecessarily padded to out to fill its length, and Roeg – firmly sticking to the 'show, don't tell' ethos – packs the film with stunning imagery, ranging from widest of Outback vistas, to tightest of closeups of Outback wildlife.
Aside from a few brief appearances from adult characters, the whole film rests on its young trio of actors. Jenny Agutter and Lucien John (aka Luc Roeg, one of the director's sons) are superb as the sister and brother, with very natural performances and a great chemistry. David Gulpilil – a newcomer at the time – is also very impressive as the Aboriginal boy, and the film allows him to demonstrate many aspects of his culture, such as hunting, foraging and dancing. None of his dialogue is subtitled, which further adds to his sense of 'the other', and of the divide between the characters.
Far bigger brains than mine have waxed lyrical about Walkabout over the years, so there's really nothing I can add in terms of talking about the film's symbolism and deeper meanings, but suffice to say that, nearly 50 years after its release, Nicolas Roeg's film remains a unique viewing experience, and one that every fan of cinema should watch.
Video
The video presentation – taken from a new 4K scan and restoration – isn't quite as pristine as some we've seen, but is still very pleasing, with a clean, natural looking transfer. There's some film grain throughout, but that's as it should be, and while the image is a little soft at times, it's generally well detailed.
Colours are very reproduced very well, while contrast levels are excellent, with bright, sun-bleached highlights really letting you feel the relentless Outback heat. Night shots are equally impressive, with inky black shadows that still manage to show plenty of detail. At other times, shots filmed at dusk look exquisite, with an incredible warmth.
Walkabout is one of those films where the visuals are just as important – if not more so – as any of its other elements, and I dare say it's never looked better than it does here.
Audio
The audio track is a simple, clean DTS-HD mono affair, accurately capturing that of the original film. The dialog is always nice and clear, as is John Barry's lush score.
It's a shame there's no 5.1 option here, as it would have been nice to have some of the atmospheric sounds and the score fill out the soundstage, but multi-channel mixes taken from mono sources often sound a bit flat and forced, so perhaps it's best left as is.
In any case, there are no real complaints here.
Extras
As well as newly restored transfer, Second Sight have given Walkabout a great selection of all new on-disc and in-box extra features.
First up for the disc-based goodies is a new audio commentary by Luc Roeg and David Thompson. Given the age of the film, Roeg's young age at the time of production, and the inevitably faded memories, Thompson does a good job of coaxing plenty of information and anecdotes out of the actor-turned-producer. It's often light on fine detail, but the track really gives a great view of the production through the eyes of a child, while also being able to look back from the present day and explain some of Nic Roeg's intentions and processes when making the film.
Next up is an interview with producer Si Litvinov, which runs for just under 10 enthralling minutes. Litvinov talks non stop about the events around his attachment to the film – including the fleeting attachment of Roeg as a possible director of A Clockwork Orange – and it's a joy to watch. Litvinov is a real old-school raconteur, and I could have easily watched him go on for hours.
Next we get a Luc Roeg interview, which lasts about 11 minutes. It's an interesting piece, though does cover much of the same ground as commentary, but is still worth a watch.
Jenny Agutter is next, with a new interview lasting just under 10 minutes. I'm sure she's sick to death of talking the film for almost 40 years, but it's a great interview, covering her early involvement in the film, the long location shooting and more.
Then it's over to film director Danny Boyle for just under 20 minutes of chat about Roeg's work. As you'd expect from Boyle, he has a lot to say, and he's clearly a huge fan of Roeg's work, making the interview a great watch.
Next up is a 2011 BFI Q&A with Nicolas Roeg, Jenny Agutter and Luc Roeg, running just over 15 minutes. Agutter and Luc Roeg cover much of the same ground as their interviews, but it's good to hear from the late director himself.
Finally for the on-disc extras we get an archive introduction to the film by Nicolas Roeg, another welcome – albeit brief – chance to hear the man himself talk about the film.
We didn't get to take a look at the in-box extras, but the limited edition boxset, limited to 3000 copies, features slipcase packaging with new artwork by Michael Boland, the original source novel with exclusive cover art, a softcover book with a cope of the original draft script, and another book with new essays by Sophie Monks Kaufman, Simon Abrams and Daniel Bird.
If these are anything like similar items included in Second Sight's previous releases then you're in for a treat.
Summary
Almost 50 years after its release, Walkabout remains a truly unique film, and Second Sight have come through once again, giving the film the treatment it deserves.
Movie: A-
Video: A-
Audio: B+
Extras: A
Overall: A – Strongly Recommended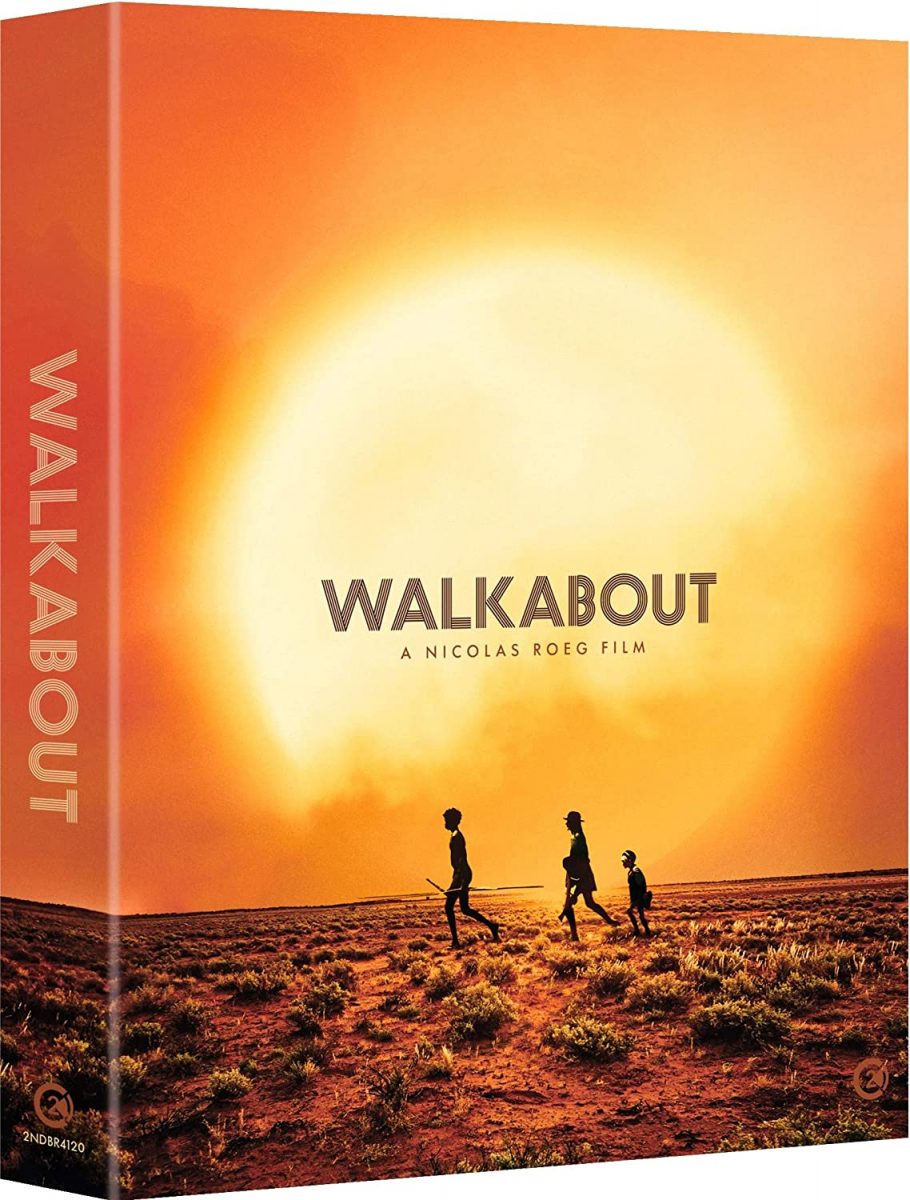 Walkabout is available to buy now from Second Sight.