The new 'Scanners' Steelbook will blow your mind in April!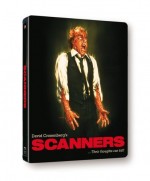 UPDATED – we've been informed that the Scanners release is no longer region free, and this also includes the sequels.
The statement from label Second Sight reads:
"We sincerely apologise for this but unfortunately a contractual issue has arisen at the 11th hour which means we are no longer in a position to proceed with a Region Free release as originally intended. We are very sorry indeed for the inconvenience but unfortunately the coding is something we must now adhere to with this release, as on the majority of releases."
Disappointing for sure, but licensing rights are a tricky area, and while big studios can spend the time and money getting the deal they want, for indie labels that's often not possible.

===================
This is one I'm personally VERY excited about, is this movie is one of my all-time favourites.
David Cronenberg's classic body horror Scanners is heading to UK Steelbook on April 8th.
With a collection of new bonus features, and great box art, this is must-buy for genre fans.
Even better, as well as this movie, Second Sight are also releasing Scanners 2 and Scanners 3 (which aren't actually that bad) in regular packaging.
Check out the pre-order links, specs and artwork below.
Pre-order Scanners: Amazon UK
Extra Features:
My Art Keeps Me Sane – Interview with Star Stephen Lack
The Eye of Scanners – Interview with Cinematographer Mark Irwin
The Chaos of Scanners – Interview with Executive Producer Pierre David
Exploding Brains & Popping Veins – Interview with Makeup Effects Artist Stephen Dupuis
Bad Guy Dane – Interview with Actor Lawrence Dane
Pre-order Scanners 2 – The New Order: Amazon UK
Pre-order Scanner 3 – The Takeover: Amazon UK