A 3-disc "Hellraiser Trilogy" box set is coming from Arrow in January
If you missed out on the stunning – and very limited – Scarlet Box edition of the Hellraiser trilogy, now's your chance to get hold of the movies with the core set of extras, with some really nice artwork.
Of course this doesn't include the Clive Barker Legacy bonus disc, or the 200 page Damnation Games book, but you do get brand new 2K restorations of all three movies, along with hours and hours of new and archive commentaries, documentaries and more.
At the time of writing Amazon UK are £10 cheaper than Zavvi, though this may change. We'll add more links as we get them.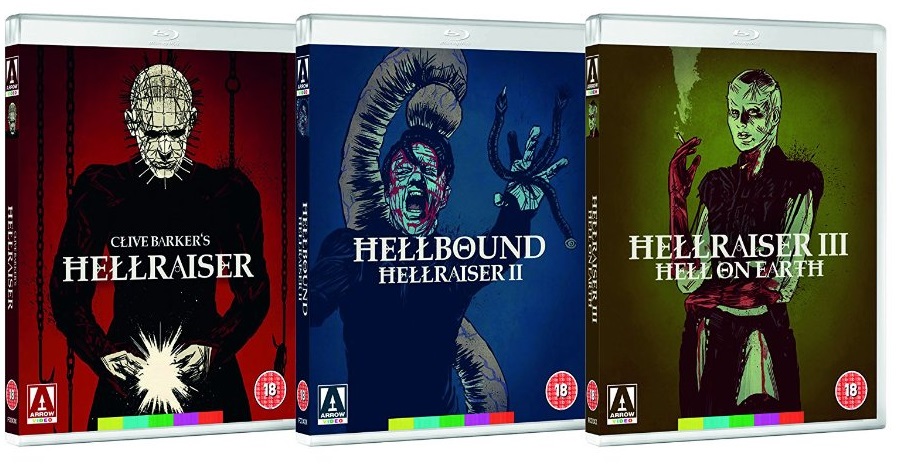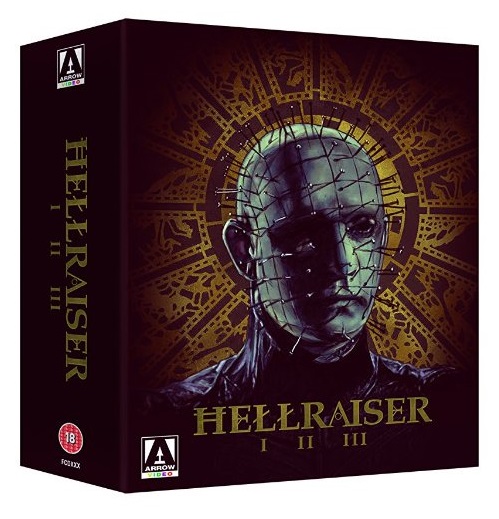 Includes Special Edition Content:
Brand new 2K restorations of Hellraiser, Hellbound: Hellraiser II, and Hellraiser III: Hell on Earth
Uncompressed PCM Stereo 2.0 and Lossless DTS-HD MA 5.1 sound for Hellraiser and Hellbound: Hellraiser II
Lossless DTS-HD MA 2.0 sound for Hellraiser III: Hell on Earth
English subtitles for the deaf and hard of hearing for all three films
Reversible sleeves for all three films featuring original and newly commissioned artwork by Gilles Vranckx
Disc 1 – Hellraiser
Brand new 2K restoration approved by director of photography Robin Vidgeon
Audio commentary with writer/director Clive Barker
Audio commentary with Barker and actress Ashley Laurence
Leviathan: The Story of Hellraiser – brand new version of the definitive documentary on the making of Hellraiser, featuring interviews with key cast and crew members
Being Frank: Sean Chapman on Hellraiser – actor Sean Chapman talks candidly about playing the character of Frank Cotton in Barker's original
Soundtrack Hell: The Story of the Abandoned Coil Score – Coil member Stephen Thrower on the Hellraiser score that almost was
Hellraiser: Resurrection – vintage featurette including interviews with Clive Barker, actors Doug Bradley and Ashley Laurence, special make-up effects artist Bob Keen and others
Under the Skin: Doug Bradley on Hellraiser
Original EPK featuring on-set interviews with cast and crew
Draft Screenplays [BD-ROM content]
Trailers and TV Spots
Image Gallery
Disc 2 – Hellbound: Hellraiser II
Brand new 2K restoration approved by director of photography Robin Vidgeon
Audio Commentary with director Tony Randel and writer Peter Atkins
Audio Commentary with Randel, Atkins and actress Ashley Laurence
Leviathan: The Story of Hellbound: Hellraiser II – brand new version of the definitive documentary on the making of Hellbound, featuring interviews with key cast and crew members
Being Frank: Sean Chapman on Hellbound – actor Sean Chapman talks about reprising the role of Frank Cotton in the first Hellraiser sequel
Surgeon Scene – the home video world premiere of this legendary, never before-seen excised sequence from Hellbound, sourced from a VHS workprint
Lost in the Labyrinth – vintage featurette including interviews with Barker, Randel, Keen, Atkins and others
Under the Skin: Doug Bradley on Hellbound: Hellraiser II
On-set interview with Clive Barker
On-set interviews with cast and crew
Behind-the-Scenes Footage
Rare and unseen storyboards
Draft Screenplay [BD-ROM content]
Trailers and TV Spots
Image Gallery
Disc 3 – Hellraiser III: Hell on Earth
Brand new 2K restoration of the Original Theatrical Version [93 mins]
Alternate Unrated Version [97 mins]
Brand new audio commentary with writer Peter Atkins
Audio commentary with director Anthony Hickox and Doug Bradley
Hell on Earth: The Story of Hellraiser III – making-of documentary featuring interviews with Atkins, Keen and actor Ken Carpenter
Terri's Tales – brand new interview with actress Paula Marshall
Under the Skin: Doug Bradley on Hellraiser III: Hell on Earth
Raising Hell on Earth – archival interview with Hickox
On-set interviews with Barker and Bradley
Never-before-seen Hellraiser III SFX dailies
Theatrical Trailer
Image Gallery
Hellraiser III comic book adaptation [Disc gallery]