Animated classic "The Iron Giant" is getting a stunning Zavvi exclusive UK Signature Collectors Edition
How excited are you about this release?

The Iron Giant is one of the finest animated films ever made, and really did deserve to be a much bigger hit.
Now it's finally getting the treatment it deserves with this superb collectors edition, coming to the UK as a Zavvi exclusive, and limited to just 1000 copies.
Pre-order: Zavvi
Brad Bird makes his directorial debut with this animated sci-fi adventure. In 1957, a gigantic iron man crash lands from outer space in Rockwell, Maine. After reassembling itself, the giant is discovered by nine-year-old Hogarth Hughes (voice of Eli Marienthal), who helps it to conceal itself while feeding on scrapyard cars. Hogarth is assisted by beatnik Dean McCoppin (Harry Connick Jr), unaware that government agent Kent Mansley (Christopher McDonald) is already on the trail of what he regards as an 'alien invader'.

"Iron Giant" is based upon the 1968 story, 'Iron Man,' by the British poet laureate Ted Hughes. The film is about a giant metal machine that drops from the sky and frightens a small town in Maine in 1958, only to find a friend named, Hogarth, that ultimately finds its humanity and saving the towns people of their fears and prejudices.

The Ultimate Collector's Edition includes:

A letter from Director Brad Bird to the fans
Five Mondo Art Cards
Beautiful 32-Page Book
Collectible Iron Giant Figurine
Blu-ray, DVD, and UltraViolet

Special Features:

The Giant's Dream: An all new documentary about the dramatic story behind the making one of the world's greatest animated films, The Iron Giant.
Includes both version of the film: The Iron Giant: Signature Edition (2015), The Iron Giant: Original Theatrical Edition (1999)
Feature-Length Commentaries by Director Brad Bird, Head of Animation Tony Fucile, Story
Department Head Jeff Lynch and Giant Animation Supervisor Steven Markowski
The Making of The Iron Giant – Hosted by Vin Diesel and featuring interviews with the cast and crew
Deleted Scenes, Original Opening Sequences and Featurettes that give you an inside look into the score, character design, storyboards and animation
Motion Gallery, New Signature Edition Trailer, and more!
Includes UltraViolet so you can enjoy the film on many different compatible devices.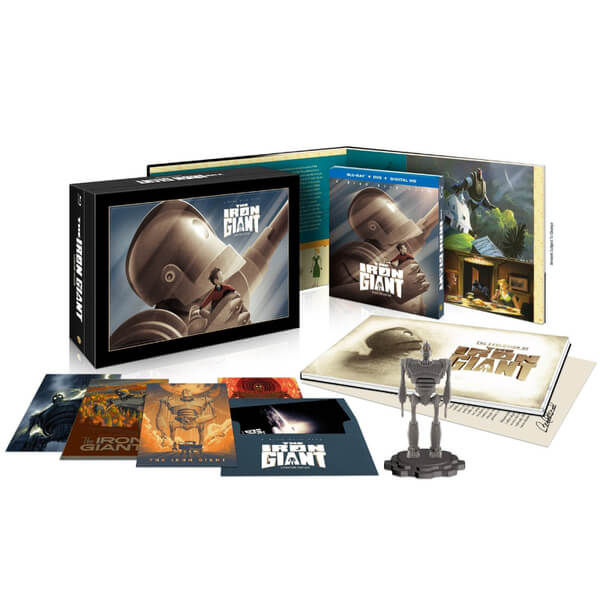 [list url="http://www.zavvi.com/merchandise/offers.list"]