Check out this 6-Disc Army Of Darkness Ultimate Edition German release!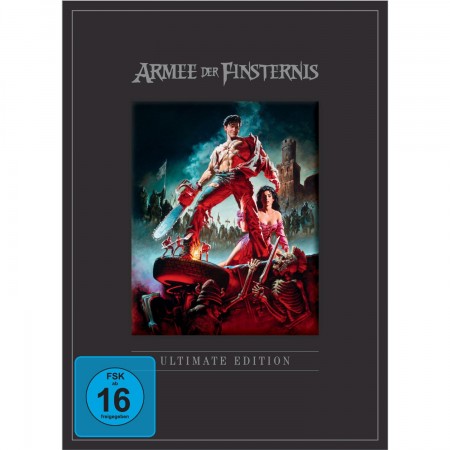 While the new Evil Dead movie has defied expectation by being very good indeed, The original trilogy's final chapter is getting a very nice release in Germany, with a 6-Disc (2 Blu-rays & 4 DVDs) Ultimate Edition on April 26th.
Complete with 4 different cuts of the movie and bunch of extras, including audio commentary and featurettes, this release really does live up to its name.
Check out the pre-order link, contents & extras, and artwork below:
Pre-order: Amazon.de
Disc 1 (Blu-ray) Director's Cut version (about 96 minutes) Extras: Audio commentary by Sam Raimi, Ivan Raimi and Bruce Campbell, German Trailer, image gallery

Disc 2 (Blu-ray) German theatrical version (approx. 88 minutes) U.S. theatrical version (about 81 minutes)

Disc 3 (DVD) Director's Cut version (about 92 minutes)

Disc 4 (DVD) German theatrical version (about 85 minutes)

Disc 5 (DVD) U.S. theatrical version (about 78 minutes)

Disc 6 (DVD) Extras: U.S. TV version, with alternative settings and changed dialogues (about 85 minutes English with German subtitles), featurette on the special effects Creating the Deadites, various interviews and behind the scenes shots from the set An animated tribute to the Evil Dead trilogy, several trailers from several countries, Deleted Scenes