Foxy Brown gets her worldwide Blu-ray premiere on Monday with a great looking Steelbook!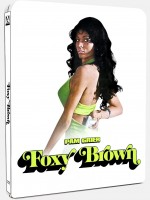 As we reported back in January, Blaxploitation classic Foxy Brown is getting its worldwide Blu-ray release on Monday 24th June, with a feature packed UK Steelbook edition from Arrow Video.
Check out the pre-order link, extras, artwork and trailer below!
Pre-order: Amazon UK
Special Features:
Restored High Definition Blu-ray presentation (1080p)
Optional English SDH subtitles for the deaf and hard of hearing
Audio commentary with director Jack Hill
From Black and White to Blaxploitation – Actor Sid Haig speaks about his long and influential friendship with Jack Hill
A Not So Minor Influence – An Interview with Bob Minor, the first African-American member of the Stuntman's Association, and co-star of Foxy Brown­
Back to Black – Legendary actors Fred "The Hammer" Williamson (Black Caesar) and Austin Stoker (Sheba Baby, Assault on Precinct 13), alongside Rosanne Katon (Ebony, Ivory, and Jade) and film scholar Howard S. Berger speak about the enduring popularity of the Blaxploitation film
Photo gallery of behind-the-scenes and publicity images
Original Theatrical Trailer
Trailer Reel – Trailers for all the major works by Jack Hill including Foxy Brown, Coffy and Switchblade Sisters
Collector's booklet featuring new writing on the film by Josiah Howard, author of Blaxploitation Cinema: The Essential Reference Guide, a new interview with Pam Grier by Jack Hill biographer Calum Waddell, illustrated with original archive stills and posters