*Updated with artwork & extras* HMV Exclusive Steelbook Skyfall Blu-ray now available to pre-order!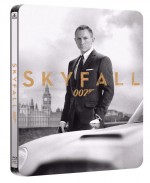 *Updated 29th January * – You can now order the Skyfall Steelbook from Amazon UK
*Updated 22nd January* – we made some enquiries with a few relevant parties involved in the Blu-ray release, and we've been told that it's highly likely that other retailers will now be selling the steelbook. You can read more here.
*Updated 18th January – please note that the HMV website is currently offline due to the company's entry into administration. You can read more here.*
We may not know the fate of the HMV exclusive steelbook for some time, but the extra features listed below, and until we know more we've added pre-order links for the standard UK edition, as well as the French and German steelbooks.
*Updated 14th January with artwork & extras*
HMV now has a live listing allowing you to pre-order their UK exclusive Steelbook Skyfall Blu-ray, and at the time of writing it's just £15.99!
Until HMV's site is back online, you can pre-order the regular edition of the Blu-ray here.
The disc is due for release on 18th February, and extras and artwork can be seen below, along with pre-order link.
Special Features:
Intro
Opening Sequence–The Death of Bond
Title Sequence–Working The Titles
007–The Return of James Bond
Q–Back to Basics
DB5–Behind the Wheel
Women–The Good, The Bad and the Beautiful
Villains–In the Shadows
Locations–License To Travel
Music–The Sound of Bond
The End Sequence–The Beginning of the End
M–Changes
The Future–New Beginnings
Skyfall Premiere
Commentary by Director Sam Mendes
Commentary by Producers Barbara Broccoli and Michael G. Wilson and Production Designer Dennis Gassner
Soundtrack Promotional Spot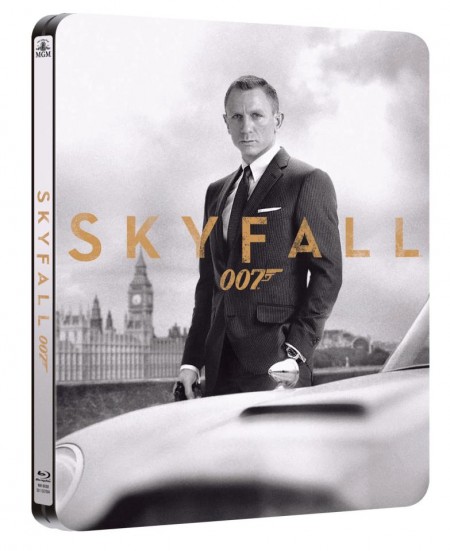 Pre-order: HMV.com
Pre-order: standard edition Blu-ray (Amazon.co.uk), French Steelbook, German Steelbook
Bond's loyalty to M is tested as her past comes back to haunt her. As MI6 comes under attack, 007 must track down and destroy the threat, no matter how personal the cost.