HMV in administration – website no longer available
Hardly a surprise really, but after the recent move by HMV to enter administration, their website is no longer accessible.
Here's the notice currently being displayed instead of their homepage (click to enlarge).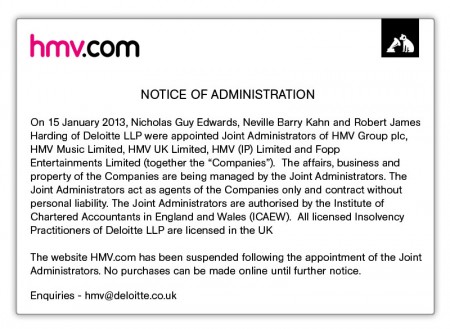 While this must be an awful time for the thousands of staff whose jobs are currently hanging in the balance, I suppose the company's demise was inevitable; while their online pricing has often been pretty keen, in-store pricing has been erratic to say the least, and rarely offered good value. With competiton in music and movie retail from the likes of iTunes, Amazon and Play.com, and the growth of streaming services like LoveFilm and Spotify, HMV there was little to entice people through the door.
The brand still has great potential, so fingers crossed someone will rebuild HMV into a leading online retailer of physical and downloadable music and video.
In the meantime, the UK has potentially lost one of the leading source of steelbook releases; we can only hope that pre-orders already made will be honoured.
As soon as we know more we'll keep you updated.