*UPDATED* Looper Steelbook no longer an HMV exclusive!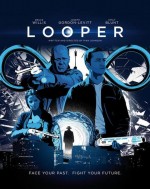 UPDATED January 21st
Formerly set for release as an HMV exclusive, following that company's fall into administration, you can now order the Steelbook edition of Looper from alternate retailers, including  Zavvi!
Set for release on January 28th, Looper features rapidly rising star Joseph Gordon-Levitt and action legend Bruce Willis. Here's the synopsis:
In the futuristic action thriller Looper, time travel will be invented – but it will be illegal and only available on the black market. When the mob wants to get rid of someone, they will send their target 30 years into the past, where a looper" – a hired gun, like Joe (Joseph Gordon-Levitt) – is waiting to mop up. Joe is getting rich and life is good… until the day the mob decides to "close the loop," sending back Joe's future self (Bruce Willis) for assassination. The film is written and directed by Rian Johnson and also stars Emily Blunt,Paul Dano, and Jeff Daniels. Ram Bergman and James D. Stern produce.
UPDATED November 20th – The usually very reliable DigitalBits.com are now reporting on the extras to be included in the US release. These days, it's highly unusual for a major studio release like this to have different extras in different regions, so I think it's safe to expect the following:
Audio commentary with director Rian Johnson and actors Joseph Gordon-Levitt and Emily Blunt
Looper: From the Beginning featuette
Scoring Looper featurette
The Science of Time Travel featurette
22 deleted scenes with optional commentary (by Johnson and actor Noah Segan)
Animated trailer
Pre-order: Zavvi
UPDATED November 28th – HMV have now released the full front and back artwork for this release (click to enlarge), and the trailer follows.