Marvel Cinematic Universe: Phase One 10 Disc Collectors Set now up for pre-order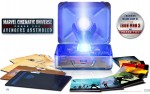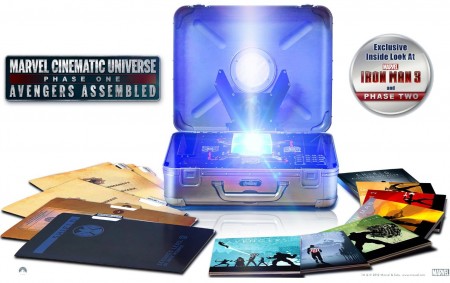 You can now place your order for Marvel's stunning 10-Disc 'Phase One' collectors set, featuring all the movies from Marvel leading up to The Avengers, which is due for the release in April.
This set was originally due for release much sooner, but hit snag when Rimowa BhmbH, the German briefcase manufacture who designed the case upon which this set is based, claimed copyright infringement. It seems those problems are now solved, as the set is now back on track, and it looks like Marvel have taken advantage of the delay as they are now advertising the inclusion of a preview for Iron Man 3 and 'Phase Two', which will include IM3, Thor 2, Iron Man 2, Guardians of The Galaxy, Ant-Man and, of course, The Avengers 2. How much of this we'll see here is unknown of course, but the stunning packaging alone makes this a must-buy!
While the set (currently listed at $197.10) isn't cheap, it's one of those rare beasts that really deserves the name "collectors item", and remember – if you pre-order $197.10 is the most you'll pay – if the price then goes up, you don't pay a penny more, and if it comes down before release, you'll be charged at the lower price!
The set comes in reproduction briefcase, featuring a light-up 'Tesseract' cube, SHIELD character profiles, and very cool looking art deco disc packaging.
Read on for the full contents, pre-order link and packaging shot:
Here's what else we get on disc:
Marvel's The Avengers film (Blu-ray 3D + Blu-ray)
Captain America: The First Avenger film (Blu-ray 3D + Blu-ray)
Thor film (Blu-ray 3D + Blu-ray)
Iron Man 2 film (Blu-ray)
The Incredible Hulk film (Blu-ray)
Iron Man film (Blu-ray)
Top-secret Bonus Disc, includes:

"And Then Shawarma After" featurette
Never-before-seen deleted scenes, extended scenes, featurettes, animatics and more from each film
Collectible packaging with exclusive memorabilia (prop reproductions and artifacts) from the motion pictures
Exclusive inside look at Marvel's Iron Man 3 and other films from Phase Two of the Marvel Cinematic Universe
Pre-order link: Amazon.com
Click to enlarge: