While you're waiting for your Skyfall Steelbook, here are a couple of other Bond goodies you might be interested in
A couple of days ago, steelbook collectors and Bond fans alike breathed a sigh of relief, when the Skyfall steelbook, formerly an HMV exclusive, emerged from limbo courtesy of Amazon UK (more details here, or buy it here).
Now the dust has settled, and you are all patiently awaiting delivery, here are a couple of Bond products we thought you might be interested in.
First up is a fascinating new documentary, Everything or Nothing. A new feature documentary from Metro‐Goldwyn‐Mayer Pictures, Columbia Pictures, Passion Pictures and Red Box Films, and directed by Stevan Riley ,Everything or Nothing focuses on three men with a shared dream – Bond producers Albert R. Broccoli, Harry Saltzman and author Ian Fleming. It's the thrilling and inspiring narrative behind the longest running film franchise in cinema history which began in 1962.
The film includes new and archive interviews with all the major figures from the franchise, apart from old misery guts Sean Connery. While only available on DVD at the moment, it's still well worth checking out.
Order Everything or Nothing: Amazon UK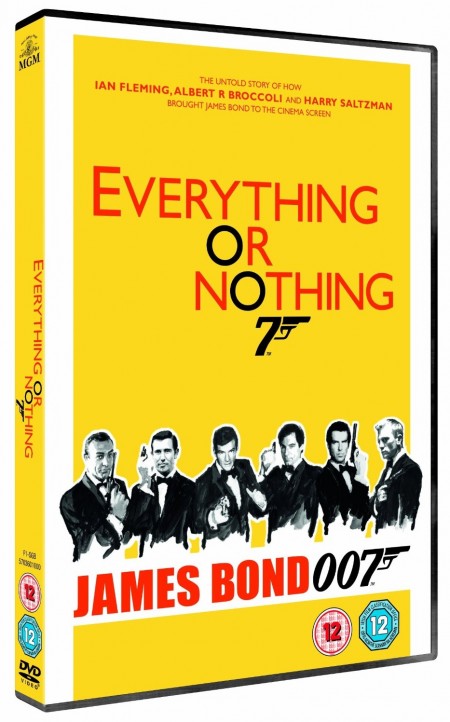 Next up, from last year is Bond 50, a collection of the previous 22 official James Bond movies (so no original Casino Royale or Never Say Never Again).
You get all the movies from Dr No to Quantum of Solace, with over 120 hours of extras, including documentaries, audio commentaries, interviews, archive materials and more. There's also a space to slip in your Skyfall disc should you wish.
Prices seem to fluctuate on this set, so we've included three retailer links here for you to choose from.
Buy now – Amazon UK, Zavvi, Sainsbury's Entertainment
Here is the box art (click to enlarge):