It looks like the Skyfall Steelbook may no longer be an HMV exclusive!
*Updated 29th January * – You can now order the Skyfall Steelbook from Amazon UK
Following the entry into administration of HMV, it seemed like the UK was losing one of the main sources of Steelbook Blu-ray releases.
One big upcoming title potentially affected is of course the latest Bond movie, Skyfall.
Hopes were raised when another former HMV exclusive, Looper, became available via other retailers, though the Skyfall steelbook remains elusive.
We put in some enquiries with a few relevant people, and have just heard back with some promising news – the Skyfall steelbook will indeed apparently go "trade-wide" and be available at other retailers!
This seems to confirm some 'friend of a friend' type chatter from a couple of days ago on the Blu-ray.com forum, that claimed Zavvi would be getting an allocation of the discs.
With just a few weeks to go until release we'll hopefully see listing appear soon on the likes of Amazon, Zavvi and Play, and as we get further information we'll let you know, and bring you retailer links as soon as we have them!
Just as a reminder, here the specs, artwork and  pre-order links for the standard UK edition, as well as the French and German steelbooks..
Special Features:
Intro
Opening Sequence–The Death of Bond
Title Sequence–Working The Titles
007–The Return of James Bond
Q–Back to Basics
DB5–Behind the Wheel
Women–The Good, The Bad and the Beautiful
Villains–In the Shadows
Locations–License To Travel
Music–The Sound of Bond
The End Sequence–The Beginning of the End
M–Changes
The Future–New Beginnings
Skyfall Premiere
Commentary by Director Sam Mendes
Commentary by Producers Barbara Broccoli and Michael G. Wilson and Production Designer Dennis Gassner
Soundtrack Promotional Spot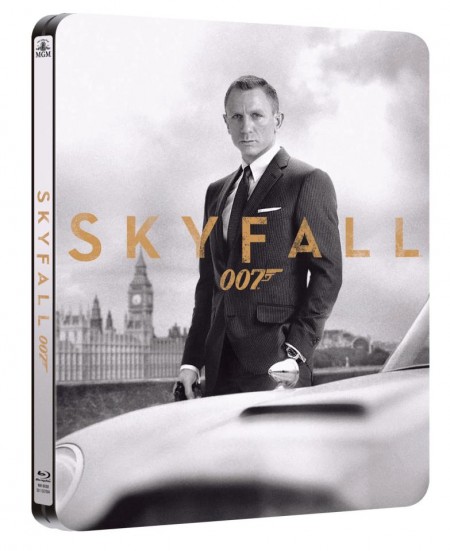 Pre-order: HMV.com
Pre-order: standard edition Blu-ray (Amazon.co.uk), French Steelbook, German Steelbook