Jack Reacher Steelbook heading to France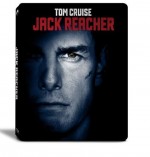 The Tom Cruise action thriller Jack Reacher is heading to Blu-ray, and Amazon France have steelbook edition up for pre-order, with a release date of May 23rd.
While the movie met with a positive critical reaction, unfortunately it failed to set the box office alight, so plans for a franchise based on the best selling books are up in the air at the moment. That's a shame, as the movie is a decent, gritty thriller, and it's nice to see Cruise playing someone a little bit more ruthless in their methods.
The Amazon France listing doesn't specifiy any extra features, however the UK's BBFC have recently classified the following featurettes, so it's a safe bet this will be included on most, if not all, international releases:
When The Man Comes Around
You Don't Mess With Jack Reacher: Combat & Weapons
The Reacher Phenomenom
An Unstoppable Force: Reacher In Pursuit
Check out the pre-order link, artwork and trailer below:
Pre-order: Amazon France