Pickup the RETRO ZBOX and Wall-E Steelbook exclusive from Zavvi and save
If you're a fan of Zavvi's ZBOX and Pixar, then you might want to take a look at this bundle offer, giving you the latest Retro ZBOX along with a copy of their exclusive Wall-E steelbook, saving you £2.99 over the individual purchase price.
At the time of writing their are less that 100 copies left.
Pre-order: Zavvi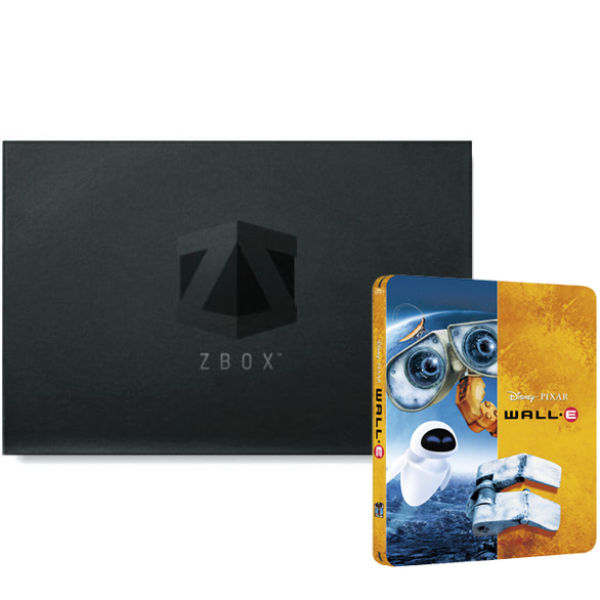 Wall-E – Zavvi Exclusive Limited Edition Steelbook

The highly acclaimed director of Finding Nemo and the creative storytellers behind Cars and Ratatouille transport you to a galaxy not so far away for a new cosmic comedy adventure about a determined robot named WALL•E.

After hundreds of lonely years of doing what he was built for, the curious and lovable WALL•E discovers a new purpose in life when he meets a sleek search robot named EVE. Join them and a hilarious cast of characters on a fantastic journey across the universe.

Transport yourself to a fascinating new world with Disney•Pixar's latest adventure, now even more astonishing on DVD and loaded with bonus features, including the all-new animated short film 'BURN•E'. WALL•E is a film your family will want to enjoy over and over again.

Retro ZBOX

The themed monthly mystery box for fans of games, movies, cult TV, comic books and purveyors of all things popular culture. Each month's box is strictly limited edition.

WHAT'S IN THE BOX?

ZBOX will feature a wide range of products every month that tie in to the monthly theme. This month's box theme is "Retro" and will include loads of great gear from some of the Retro games that you're most nostalgic for.

This month's box will contain an exclusively designed, limited edition t-shirt featuring a print that ties in with this month's theme (Retro). We now stock women's sizes and XXL. To pre-order the ZBOX simply choose your size and add to basket.

BEST BRANDS & FRANCHISES

Each box will include products from your favourite brands and franchises that go with the month's theme, including Pop Vinyl, Funko, Star Wars, Marvel and more!