Psychological horror Black Swan getting a great looking Zavvi exclusive Steelbook release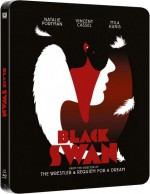 Zavvi certainly seem to be taking the Steelbook market seriously, and they have just announced a new bunch of exclusive releases coming their way on June 3rd.
First up we have the highly acclaimed Black Swan, from director Darren Aronofsky and starring Natalie Portman.
Check out the pre-order link, synopsis and artwork below.
Pre-order: Zavvi
Starring Academy Award Winner Natalie Portman and directed by Darren Aronofsky (The Wrestler), this provocative psychological thriller exhilarated audiences and critics on its way to becoming the must-see film of the year. Portman gives the performance of a lifetime as Nina, a stunningly talented but dangerously unstable ballerina on the verge of stardom. Pushed to breaking point by her driven artistic director (Vincent Cassel) and the threat posed by a seductive rival dancer (Mila Kunis), Nina's tenuous grip on reality starts to slip away. As the pressure builds, Nina's all-consuming obsessions spin out of control, plunging her into a waking nightmare that will threaten not only her sanity, but her life.