Skyfall Steelbook back in stock (for now) at Amazon UK!
*UPDATE 6th March*
It seems like Amazon have now received additional stock of the Skyfall steelbook, and while the price, at the time of writing, has increased by £3 to £17.99, it's still much cheaper that some of the staggering figures the disc was fetching on eBay.
Who knows how long this will last, but, should it disappear again, the French and German editions are still great options – see the links below
==========
*UPDATE 20th February*
The Amazon product listing keeps changing to out of stock, and at the time of writing says "The Skyfall Limited Edition Steelbook is no longer available from Amazon.co.uk"
Looks like the 'Limited Edition' tag has lived up to its name…
For those still wishing to get a copy of the Steelbook, the French and German editions offer the same artwork and extras:
Order French Steelbook (includes collectible art cards): Amazon France
Order German Steelbook: Amazon Germany
Or you can order the standard Blu-ray: Amazon UK
==================================
Original article:
Well, they took their sweet time, but Amazon have taken over from HMV for the UK exclusive Skyfall Steelbook.
What are you waiting for? Go! Now!
Pre-order (may or may not be available, please see alternate links above): Amazon UK
Special Features:
Intro
Opening Sequence–The Death of Bond
Title Sequence–Working The Titles
007–The Return of James Bond
Q–Back to Basics
DB5–Behind the Wheel
Women–The Good, The Bad and the Beautiful
Villains–In the Shadows
Locations–License To Travel
Music–The Sound of Bond
The End Sequence–The Beginning of the End
M–Changes
The Future–New Beginnings
Skyfall Premiere
Commentary by Director Sam Mendes
Commentary by Producers Barbara Broccoli and Michael G. Wilson and Production Designer Dennis Gassner
Soundtrack Promotional Spot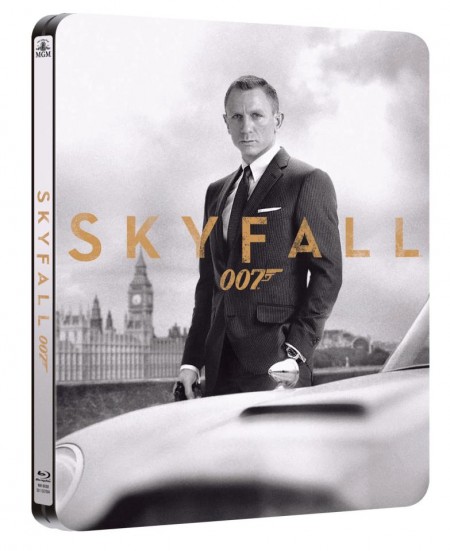 Bond's loyalty to M is tested as her past comes back to haunt her. As MI6 comes under attack, 007 must track down and destroy the threat, no matter how personal the cost.