Les Miserables gets a UK Limited Edition DigiBook on May 13th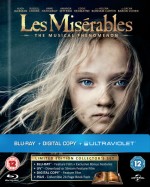 The smash hit big-screen adaptation of Les Miserables is coming to UK Blu-ray on May 13th, and while we are yet to see if there'll be a Steelbook release, there will be a very nice looking DigiBook collectors edition.
As well as the extras featured on the standard Blu-ray edition, the DigiBook will also include a 24 page book.
Set against the backdrop of 19th-century France,Les Misérables tells an enthralling story of broken dreams and unrequited love, passion, sacrifice and redemption – a timeless testament to the survival of the human spirit. Jackman plays ex-prisoner Jean Valjean, hunted for decades by the ruthless policeman Javert (Crowe) after he breaks parole. When Valjean agrees to care for factory worker Fantine's (Hathaway) young daughter, Cosette, their lives change forever.

Featuring an incredible cast who give truly outstanding performances including: Hugh Jackman, Oscar winner Russell Crowe, Anne Hathaway, Amanda Seyfried, Eddie Redmayne, Aaron Tveit, Samantha Barks, and Helena Bonham Carter and Sacha Baron Cohen. Filmed by the visionary Academy-Award Director of The King's Speech, Tom Hooper.
Check out the pre-order link, special features and artwork below:
Pre-order: Zavvi
Special Features:
The Original Masterwork: Victor Hugo's Les Miserables
Les Miserables: A Revolutionary Approach (The Start of Les Miserables)
The West End Connection
Les Miserables on Location
Creating the Perfect Paris
Battle at the Barricade
Les Miserables Singing Live
Feature Commentary with Director Tom Hooper