Check out this glowing review of Arrow's feature-packed King Of New York steelbook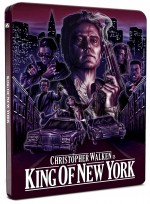 Movie site Twitchfilm.com have posted a very enthusiastic review of Arrow's steelbook release of Abel Ferrara's classic, King of New York, starring Christopher Walken.
The reviewer definitely enjoyed the movie, as well as its presentation on disc and, of course, that all-important packaging!
You can read the full review here, but here are a few highlights:
"… this is a balls out awesome movie that I will definitely be checking out again soon.

… The image is very clean, there is a consistent sheen of natural looking grain… The audio, via an awesome DTS-HD MA 5.1 track, is also fantastic…

… I can't go without mentioned the awesome custom cover art on this steelbook, done by Tom "The Dude Designs" Hodge. It was his first steelbook, I believe, and he knocks it out of the park."
The disc is also packed with extras, featuring all the content from the US Lionsgate release, while also adding a few UK exclusives, apart from the steelbook:
Collector's booklet featuring writing on the film by Brad Stevens, author of Abel Ferrara: The Moral Vision
5.1 DTS-HD Master Audio
Audio commentary with director Abel Ferrara
Audio commentary with composer Joe Delia, producer Mary Kane, casting director Randy Sabusawa and editor Anthony Redman
Brand new interview with director Abel Ferrara
Interview with producer Augusto Caminito
Abel Ferrara: Not Guilty: Documentary on Abel Ferrara from the French TV show Cinéastes de Notre Temps
A Short Film about the Long Career of Abel Ferrara: This documentary looks at Abel Ferrara's career including interviews with his key collaborators
3 Original Trailers
DVD copy of the film
You can order your copy of Arrow's King of New York on Limited Edition Steelbook Blu-ray right here
Review source: TwitchFilm.com
.