Indiana Jones The Complete Collection available in an exclusive steelbook from Amazon Germany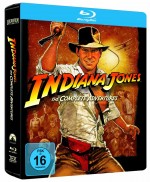 This 5 disc set, featuring all 4 films in the series, plus an extra disc of bonus features, is available now from Amazon Germany, in exclusive steelbook packaging, and with an bonus Zippo lighter.
While there's no confirmation of region coding, the UK release – with standard packaging – was region free, so I would say it's highly likely this one would be as well, as major studio release like would often use the same master for a whole territory to save costs.
You can order the set via link below, and check out the packaging.
Order: Amazon.de