The new Basket Case trilogy steelbook gets a thorough review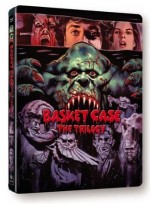 Second Sight Films have just released a new limited edition steelbook Blu-ray edition of Frank Henenlotter's Basket Case trilogy, and TwitchFilm are on the case with an indepth review.
It seems they like what they saw, and the seems a good deal, given that we get all 3 movies and a bunch of extras.
Here are a few of TwitchFilm's thoughts…
"Frank Henenlotter is a unique voice in cinema, and one who hasn't made nearly enough films, if you ask me…

…the UK's Second Sight Films have released an amazing product here that is definitely worth your money…

…All three discs […] look great. The audio is also very good … Overall a very impressive release…

This set is the only way to go, don't waste your time or money on anything else"
And the best news for international fans is that the release is region free!
As well as the 3 movies, we get the following extras:
WHAT'S IN THE BASKET? – A look at the making of the trilogy with director Frank Henenlotter; actors Kevin VanHentenryck, Beverly Bonner, Annie Ross; producers Edgar Ievans and James Glickenbaus; make-up effects artists John Caglione Jr, Kevin Haney, Gabe Bartalos and writer Uncle Bob Martin
INTERVIEW WITH GRAHAM HUMPHREYS – The legendary film poster artist discusses his career up to the creation of the new 'Basket Case Trilogy' artwork
BASKET CASE: Video Introduction by Frank Henenlotter
Audio Commentary by director Frank Henenlotter, producer Edgar Ievins and actress Beverly Bonner
Outtakes & Behind The Scenes
2001 Video Short – The Hotel Broslin
Trailers & Radio Spots
Photo Gallery – behind the scenes, promotional material, stills.
You can read the full review here, and pick up a copy of this set via the link below.
Order your copy of the Basket Case Trilogy steelbook: Amazon.co.uk