CULTURE TRUMPET – REVIEW – We catch up with "Y: The Last Man" on Disney+
Based on the comic book series by Brian K Vaughan and Pia Guerra, Y: The Last Man drops us straight into the aftermath of a worldwide event (Disease? Attack?) that has caused the death of everyone with a Y chromosome on the planet.
Well, almost everyone… Yorick (Ben Schnetzer), along with his pet monkey Ampersand (also the only surviving male mammal), searches fruitlessly for his girlfriend, who has disappeared following the event, while being initially unaware that he's the only one of his kind left.
However, despite being the titular character, for much of the show Yorick isn't the focus of the story.
https://youtu.be/0EEQ5Lj-cXM
Instead, we follow a few different groups, including one led by Diane Lane as Jennifer Brown, a Democrat Congresswoman thrust into the role of the President after everyone else in the line of succession is believed dead. Setting up her new administration in the Pentagon, she and her team attempt to figure out not just what happened and how to get essential services back up and running, but also contemplate the event's impact on the future of the human race (the security of sperm banks is suddenly a very important focus).
One notable member of Brown's team is the secret service Agent 355 (Ashley Romans), hastily – and mysteriously – assigned to her role on the day of the event, and now given a vital mission of safely escorting Yorick to find Dr Allison Mann, one of the few remaining geneticists who may be able to help save the human race.
Working against Brown is the Kimberly (Amber Tamblyin), the daughter of the former Republican President, who is dead set against having a Democrat leading the country.
Nora Brady (Marin Ireland) – the former President's press advisor – having lost her husband and son, sets out with her daughter to find safe refuge, while Hero Brown (Olivia Thirlby), the new President's daughter, seems to be doing everything she can to avoid being rescued and taken to safety, while traveling with her trans male friend Sam (played by Elliot Fletcher, also a trans male actor).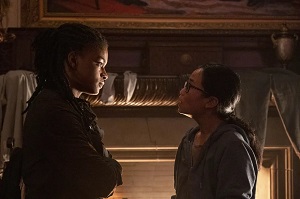 The various characters and their sometimes intersecting storylines make help keep the show interesting, and it manages to span across familiar genres. There's the political scheming the likes of House of Cards and Designated Survivor, as Brown faces challenges to her leadership, along with the post-apocalyptic drama seen in any number of zombie movies and shows, as we see groups of survivors desperately clinging on to what little they have left.
Despite being the titular character, Yorick spends much of the first few episodes being pretty unlikeable. From selfishly only caring about his own predicament, not following simple instructions and putting both himself and Agent 355 in danger, frankly he's a bit of a dick. Slowly though, as the scale of the event – and the essential part he has to play in its aftermath – dawns on him, he does become more sympathetic, and Ben Schnetzer does a good job of portraying that transformation.
As Agent 355, Ashley Romans is superb. While she is loyal to the new President, she has another agenda, and her trip with Yorick isn't just about finding Dr Mann. We're getting bits of information drip-fed, and it's clear that there's a lot more to come.
In fact, performances are all fantastic across the board, but as the new President, dealing with both global and personal issues, while fending off sustained attempts to undermine her, Diane Lane is a real standout.
With new instalments streaming weekly in the UK on Disney+'s Star "channel", Y: The Last Man is currently on episode 6 at the time of writing, and after a busy first couple of episodes introducing all the main players, has quickly become essential viewing.
Rating:
(4.5 / 5)