New Steelbook releases for w/c 26th November, including The Amazing Spider-Man and Ted
Here's the first of a (hopefully) regular feature, highlighting some new steelbook releases for the week ahead. We won't try to cover ALL steelbook releases, as there will be far too many, but we hope to offer a selection we think you'll be interested in.
This week, we have a mix of new and catalogue releases.
For new releases, the big two this week are comic book reboot The Amazing Spider-Man and comedy Ted.
While many questioned the need for a reboot of Spider-Man so soon after Sam Raimi's trilogy, Marc Webb's movie managed to convince, with a clever re-imagining of web-head's origin, and great performances from the cast, especially the two new leads, Andrew Garfield and Emma Stone.
The Amazing Spider-Man arrives in a feature-packed 2-Disc HMV exclusive steelbook package, with the following extras:
The Amazing Spider-Man Second Screen App, including interviews, storyboards, alternate takes, costume tests, pre-visualization sequences and more. Allows you to "sling" content from your tablet to the TV.
Deleted Scenes
Filmmaker Audio Commentary
The Oscorp Archives – Production Art Gallery
Stunt Rehearsals
Development and Direction
Casting
Costumes
On Location: LA
On Stage: Sony Studios
On Location: NY
Post Production and Release
16 Pre-Visualization Sequences
Developing The Amazing Spider-Man Video Game
Order Link: The Amazing Spider-Man Steelbook Blu-ray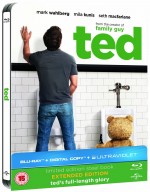 Next is Ted, an hilarious comedy hit from Seth McFarlane, create of Family Guy and American Dad.
The film was an unexpected hit this past summer, and arrives on Blu-ray complete with an extended cut and a load of good looking extras.
The Making Of: A Guy, A Girl And A Teddy Bear; Doing It Live; A MacFarlane Set
Alternate Takes
Teddy Bear Scuffle
Deleted Scenes: John Longs For Friend; Kid Smashes Pot; Pooped In My Hand; Doubles In The Bathroom; Someplace Classy; Sleeping With Rex; Donny Stalks Ted; Round Table Discussion; New, Grown-Up John Bennett; Dryer Ride; Making Smiles At You; John Talks To Everyone; Rex Asks Lori Out; You Smiled; This Is Theresa
Gag Reel
Commentary with Director/Co-Writer Seth MacFarlane, Co-Writer Alec Sulkin and Star Mark Wahlberg
Order Link: Ted Steelbook Blu-ray
Next, Amazon.de have releases of Terminator 3: Rise of The Machines, Terminator Salvation and cult hits Machete and District 9, all making their German steel debut this week.
Click the artwork below to order: