Win a copy of the Basket Case Trilogy and The Return of The Living Dead steelbooks!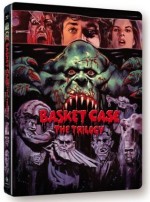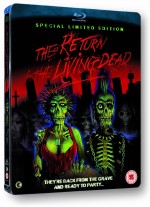 Thanks to the kind folks at Aim Publicity and Second Sight Films, we are very pleased to bring you our first competition, giving one lucky winner the new Basket Case Trilogy and The Return of The Living Dead steelbook Blu-rays!
You can check out the details of these releases at the end of this post.
To be in with a chance of the prize, just answer the following easy question:
The Return of The Living Dead writer/director Dan O'Bannon also co-wrote which classic 1979 sci-fi movie, which launched a long and successful franchise?
Please fill out the the form below to complete your entry, and good luck!
Please note:
This competition will run until midnight – UK time – on Saturday 8th December. The winner will be notified within 24 hours, then announced on the website and via our Twitter feed.
Although this competition is open worldwide, please be aware that while the Basket Case Trilogy is region free, The Return of The Living Dead is Region B, so please make sure your playback equipment is compatible.
This competition is now closed
The Basket Case Trilogy includes the following extras:
WHAT'S IN THE BASKET? – A look at the making of the trilogy with director Frank Henenlotter; actors Kevin VanHentenryck, Beverly Bonner, Annie Ross; producers Edgar Ievans and James Glickenbaus; make-up effects artists John Caglione Jr, Kevin Haney, Gabe Bartalos and writer Uncle Bob Martin
INTERVIEW WITH GRAHAM HUMPHREYS – The legendary film poster artist discusses his career up to the creation of the new 'Basket Case Trilogy' artwork
BASKET CASE: Video Introduction by Frank Henenlotter
Audio Commentary by director Frank Henenlotter, producer Edgar Ievins and actress Beverly Bonner
 Outtakes & Behind The Scenes
2001 Video Short – The Hotel Broslin
Trailers & Radio Spots
Photo Gallery – behind the scenes, promotional material, stills.
The Return of The Living Dead includes the following:
A Return To The Living Dead: The definitive 2 hour documentary featuring interviews with cast, writers, producers and many more, as well as previously unseen behind-the-scenes footage, storyboards, conceptual art, publicity materials and archival documents
A conversation with Dan O'Bannon: The Final Interview.
They Won't Stay Dead: A look at Return Of The Living Dead Part II
Love Beyond The Grave: A look at Return Of The Living Dead III
Stacey Q Live: Exclusive 'Tonight' music video
Deleted documentary interviews
Return of the Living Dead in 3 minutes
Resurrected Settings: The Filming Locations Today
The Origins of Return Of The Living Dead with John A. Russo
The FX Of The Living Dead with production designer William Stout and FX make-up artists William Munns and Tony Gardner
Party Time with music consultant Steve Pross and 45 Grave singer Dinah Cancer
Exclusive to Bluray Steelbook – Ernie's Notepad: a 20-page replica notebook by embalmer Ernie Kaltenbrunner, featuring production notes, casting information and exclusive artwork