Nucleus Films are just a few days away from the end of their Euro Cult Cinema Restoration Project fundraiser
Nothing to do with steelbooks this time, but I just want to talk a bit about this, and why should matter to all movie fans.
Just to be clear – I have NO connection to Nucleus Films, other than being a fan of their work. There's nothing in this for me.
Nucleus Films, the indie label behind, among many other things, two exceptional documentaries covering the 80s "video nasties" hysteria in the UK (available here and here), are just a few days – and a couple of thousand pounds – away from achieving their fundraising goal of £25,000 to restore two cult Italian movies – Death Laid an Egg, and Lady Frankenstein – complete with a host of extra features.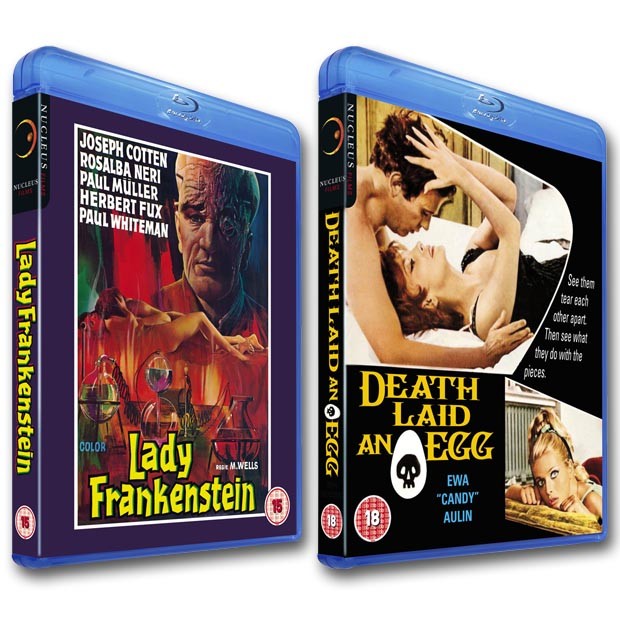 Their fundraising had three goals, the first two of which have already been met:
Goal 1: £10,000 to remaster LADY FRANKENSTEIN from its original 35mm negatives in 2K, with English and Italian audio tracks, plus newly created English subtitles.
Goal 2: £20,000 for DEATH LAID AN EGG, again from the 35mm negatives in 2K, with English and Italian audio tracks, plus newly created English subtitles.
Goal 3: The final goal of £25,000 will ensure the production of extra features for both films, including brand new, in-depth featurettes and new audio commentaries by UK genre experts including Kim Newman and Alan Jones.
Take a look at their brief intro video below:
At the time of writing, there are 4 days to go, with the running total at just under £23,000.
It won't take many of you to help hit £25,000. By donating just £30 you're guaranteed a copy of each film on Blu-ray, complete with slipcase. The more you can contribute the more you get back, including, for the top contribution of £300, the chance to attend the audio commentary recording session and have lunch or dinner with the Nucleus team.
These films might not be to your tastes. To be honest they're not particularly the kind I would normally watch, but I've made a contribution to the project because I think it's important that films like this are saved before they're lost forever. While it would be nice for small labels like Nucleus, Arrow, 88 Films and so on to bring us the most obscure releases, the fact is that many require either costly work, or won't sell in high volumes, or both, which is obviously unsustainable for a business.
If we can show our support it might encourage labels to take a few more risks, away from the mainstream, safe in the knowledge that their work will be valued. For some people, this project will see Nucleus lovingly restore their favourite film. Next time round, it might be your favourite that gets picked up.
You can make a contribution and follow the project's progress here.