Playstation 4 now available for pre-order – cheaper than Xbox One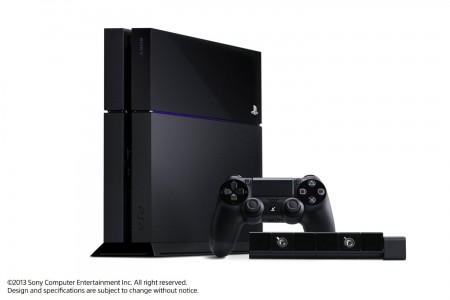 Sony's next generation console, the imaginatively titled Playstation 4, is now available for pre-order.
While the specs are as equally impressive as Microsoft's Xbox One, where Sony really come out fighting is on price – this box is considerably cheaper than Microsoft's.
How will MS react? Well a swift price drop would be the most welcome, but I imagine they'll concentrate instead on the admittedly superb Xbox Live experience, TV integration and more that their system can offer.
We'll see…
Anyway, here are the pre-order links, followed by the specs and a product shot.
Pre-order: Amazon UK
Pre-order: Amazon USA
Pre-order: Amazon France
Pre-order: Amazon Germany
Main Processor
Single-chip custom processor
CPU : x86-64 AMD "Jaguar", 8 cores
GPU : 1.84 TFLOPS, AMD next-generation Radeon based graphics engine
Memory
Hard Disk Drive
Optical Drive (read only)
BD 6xCAV
DVD 8xCAV
I/O
Super-Speed USB (USB 3.0) AUX
Communication
Ethernet (10BASE-T, 100BASE-TX, 1000BASE-T)
IEEE 802.11 b/g/n
Bluetooth 2.1 (EDR)
AV output
HDMI
Analog-AV out
Digital Output (optical)