The excellent 'Seven Psychopaths' gets an exclusive UK steelbook from Zavvi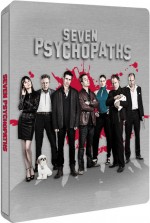 E-tailer Zavvi have picked up the UK exclusive on the brilliant Seven Psychopaths.
The disc has a release date of April 15th, and is currently prices at £15.99
On-disc extras are TBC, but you can check out the pre-order link, synopsis and artwork below:
Pre-order: Zavvi
From Oscar-winning writer and director Martin McDonagh comes a star studded, blood-drenched, black comedy. Marty (Colin Farrell) is a struggling writer who dreams of finishing his screenplay, "Seven Psychopaths". All he needs is a little focus and inspiration.

Charlie (Woody Harrelson) is the psychotic gangster who has just had his beloved dog stolen by Marty's oddball friends (Sam Rockwell and Christopher Walken). Unpredictable and extremely violent, Charlie is prepared to kill anyone associated with the theft, giving Marty all the focus and inspiration he needs to finish his script. Just as long as he lives to tell the tale.