UPDATED – Star Trek Into Darkness Collectors Edition Gift Set now available to pre-order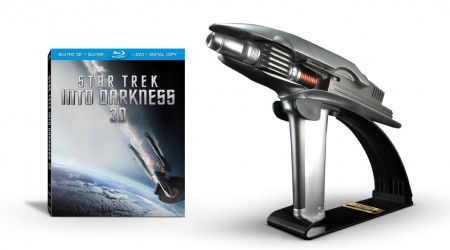 After Iron Man 3, this year's other big sequel has been Star Trek Into Darkness, the JJ Abrams' follow-up to his re-imagining of the classic sci-fi franchise, and featuring a fantastic guest performance from Benedict Cumberbatch as… well, you know who.
Amazon.com are now listing a limited edition gift set, which includes the movie on 3D and 2D Blu-ray, DVD and a digital copy, as well as a replica of the iconic Starfleet Phaser.
UPDATED – Here is some info on the phaser replica from prop makers QMX:
Have you run into any genetically engineered superhuman villains lately? Just in case, it never hurts to have the sleek phaser from Star Trek Into Darkness on hand.

QMx created this weapon for the 2013 J.J. Abrams Star Trek movie. Using the same molds, we've created a stunning replica for you. The hero props in the movie have a servo-powered spinner to change the intensity setting from "stun" to "kill"; our replica is spring-loaded with an active locking mechanism that snaps the spinner neatly in place.

The Star Trek Into Darkness Phaser Replica is solid polystone core enrobed in metal plating with several finishes — brushed aluminum, gun metal, and chrome — to create an exact match of the hero phasers used onscreen.

The QMx Star Trek Into Darkness Phaser Replica measures 10.5 inches long x 7 inches high (grip included) and weighs more than one pound. It comes with a custom-designed display stand in black lucite and includes a brass name plaque.

Don't leave Starfleet without your Star Trek Into Darkness Phaser Replica.
The release date and disc extras are still TBC, but you can get your order placed now!
Check out the pre-order link and images below (click to enlarge):
Pre-order: Amazon US